Area provides native plants, habitats for pollinators such as butterflies and bees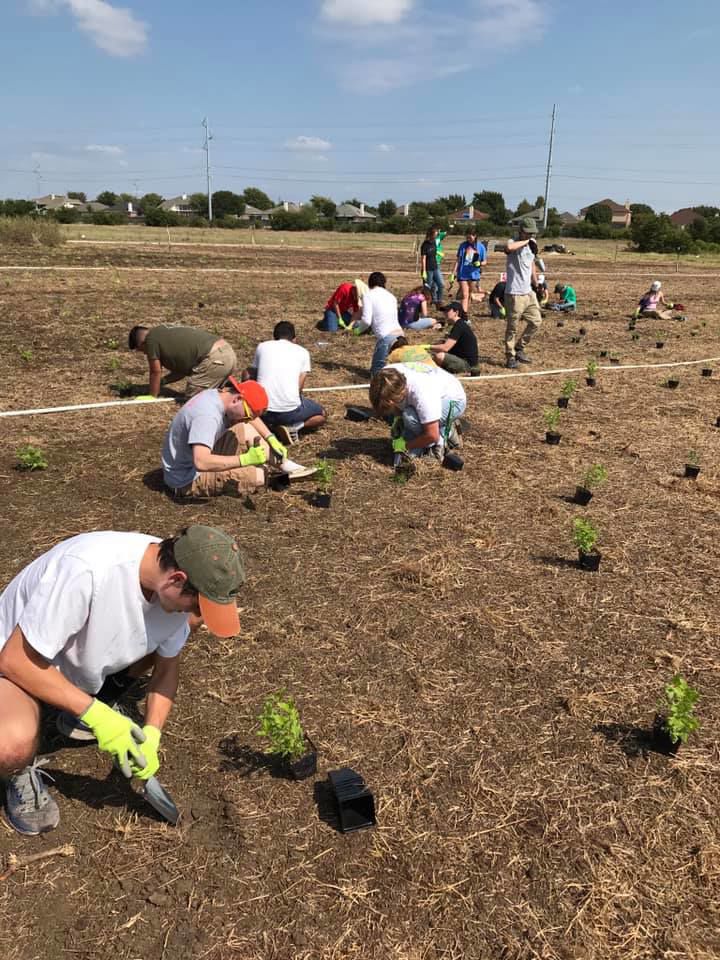 Jaime Baxter-Slye was thinking big when she initiated the four-acre Pecan Creek Pollinative Prairie at the University of North Texas' Discovery Park campus back in 2016 at the suggestion of two undergraduate students, Jen Bailey and David Flannery. The goal was to reconstruct a native North Central Texas tallgrass prairie where formerly there was lawn of invasive Bermuda grass.
A four-acre area was designated to provide a space for the university and Denton communities that promoted conservation and sustainable urban landscaping, serving as a model for all of us.
The Pollinative Prairie has become a reality because of the hard work of Baxter-Slye, who is an instructional lab supervisor in UNT's Department of Biological Sciences, her co-manager Michael Thompson and more than 1,000 volunteers from UNT. The area now provides native plants and habitats for pollinator populations, such as the Monarch butterfly and American bumblebee, which are in serious decline because of habitat destruction and overuse of pesticides that kill them.
The Pollinative Prairie has already achieved recognition by Texan from Nature, former First Lady Laura Bush's initiative, and has been registered with Monarch Watch as a waystation and with the Xerces Society Million Pollinator Challenge. It is partnered with American Kestrel Partnership, UNT Bee Campus USA and the Texas Society for Ecological Restoration.
With funding from UNT's We Mean Green Fund, contractors prepared the soil and volunteers worked to get rid of the Bermuda grass. Then, the area was seeded with a custom mix of native Texas plants purchased from Native American Seed of Austin. Volunteers planted 8,400 native plants grown by NICE (Natives Improved and Conserve Environments, an initiative of the Native Plant Society of Texas), Denton nursery Painted Flower Farm and UNT volunteers.
Baxter-Slye's project has been interdisciplinary with the site's tool shed project being designed by a group of five undergraduates in the two-semester Senior Design class led by Aloysius Attah in the College of Engineering. Other interdisciplinary work includes activities by ecology and biology students to plant and seed Texas natives, carry out surveys of wildlife, and hold educational workshops.
Alicia Eggert of the College of Visual Arts and Design is leading the design of the entryway into the prairie by having students in her class cut corten steel to make the posts and centerpiece of the sign. Journalism students have conducted interviews and video footage about the Pollinative Prairie.
The prairie is now a functioning ecosystem. Baxter-Slye and her team have documented more than 210 species of native plants, birds, fungi, insects, reptiles and mammals at the prairie. There are three predatory bird species: American kestrel, red-tailed hawk and osprey.
Work on the Pollinative Prairie continues with upcoming workshops to build above-ground flowerbeds to showcase how native plants can look in a residential space and Baxter-Slye is still seeking funding for a planned pavilion and walkways to complete the prairie.
People who are interested in volunteering at the Prairie can add their names to an email list at https://prairie.unt.edu or contact Baxter-Slye at slye@unt.edu. One can visit the prairie by going to UNT's Discovery Park campus and walking to it.
Information about future happenings and opportunities at the Prairie is on the public Facebook page @UNTEcology.