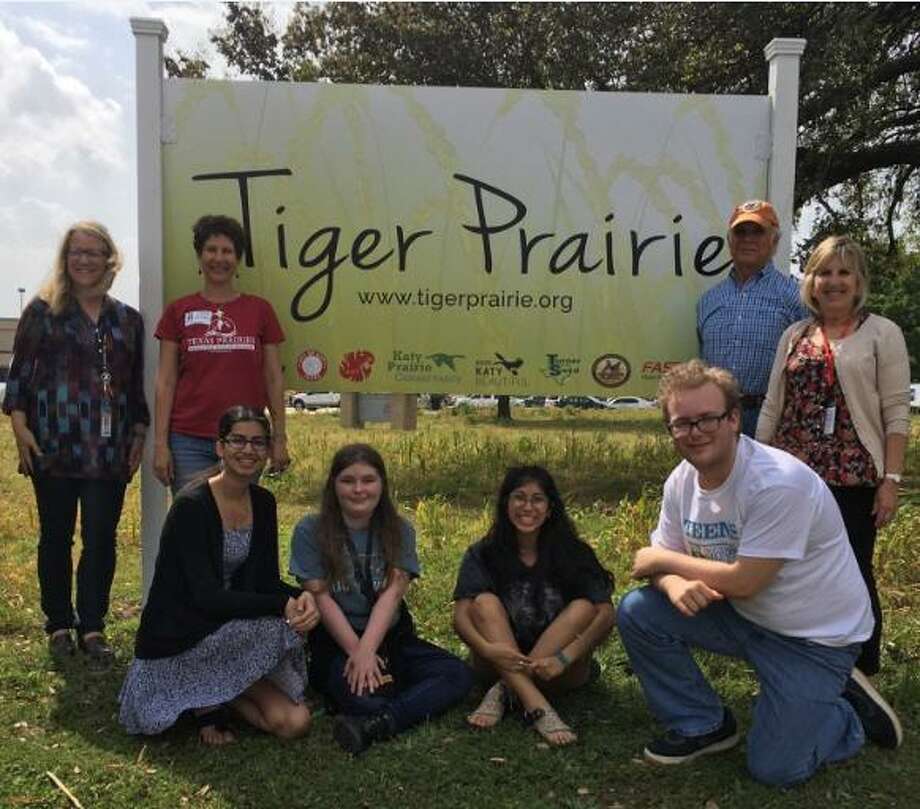 Proud of the new sign for the Tiger Prairie are, from left, standing: Rhonda Burrough, Katy High School environmental teacher; Della Barbato,director of education, Native Prairies Association of Texas; Jim Willis, co-founder/president of Wildlife Habitat Federation; and Susan Barker, Katy High School science instructional coach; in front: students Nandita Deo, Andie Gunn, Brooklyn Garibay and Stone Garza.
Tiger Prairie at Katy High School is a lesson in progress.
Started last fall, the approximately one acre at FM 1463 and Highway Boulevard represents an effort by teachers and students to incorporate hands-on experiences to complement textbook studies of environmental science.
In the process, the project that replaces turf grass with native prairie plants has picked up community support, promoted discussion and holds the promise of future impacts.
Andie Gunn, a Katy High School junior and Botany Club member, is quick to answer a question raised on a website by a resident concerned that the project will worsen the flooding risk.
"It actually will reduce flooding," said Gunn. She explained prairie plants have deep roots that improve soil infiltration compared with Bermuda grass. The soil becomes more porous as the nutrient content improves, she added.
Gunn is one of four students who spoke in January to Katy City Council about Tiger Prairie with Kelly Knight, science teacher, and Rhonda Burrough, environmental teacher. The other students are Stone Garza, Nandita Deo and Brooklyn Garibay.
Subsequently, Keep Katy Beautiful presented the group with Tiger Prairie signs that identify other project partners: Katy Prairie Conservancy, Turner Seed, Wildlife Habitat Federation and Black Bear Diner.
Jim Willis, co-founder/president of Wildlife Habitat Federation, visited the school in April to donate pots for the students to use to grow their prairie plants in the greenhouse. Walking at the edge of the prairie, Willis joined students, Burrough and Susan Barker, science instructional coach, looked at the tangled vegetation after the first-cover crop had been removed. Even in this early stage, Barker said the improvement in the condition of the soil is noticeable.
Planting of a second cover crop occurred in April. The seed mix includes peas and millet and will add nitrogen to the soil and make it more difficult for the initial invasive plants at the site to return. A fall planting of native plants is on the schedule and will include those raised by students in the greenhouses and seedballs. Garibay recently made seedballs that incorporate seeds of native plants within a clay mixture. Barker said plants will include cone flower and black-eyed Susan.
Knight successfully applied for a grant from the Monarch Watch that will provide 50 antelope milkweeds for the Tiger Prairie as well. Burrough said grants from other sources also are being explored.
In addition to becoming a Monarch Way Station, the prairie also is a model to be copied by other schools from elementary to secondary with a high level of interest from some other teachers. The Tiger Prairie also is a plus for the KHS Beekeeping Club. "We have five hives," said Knight. "We have seen some of the bees over here when the cover crops are blooming."
Deo, a junior, talked about how the Tiger Prairie could start a movement that would spread throughout the area.
Della Barbato, director of education, Native Prairies Association of Texas, told Deo that, "Our generation relies on you." She talked of how the Katy area formerly was prairie land. "Prairies are our heritage," she said.
The North American Prairie Conference will be June 2-5 in Houston and Barbato talked of Burrough participating to tell her story of Tiger Prairie.
Teachers and students talked of other positive signs in the Katy area, too. Knight noted that the master-planned Cane Island community is using native species in its landscaping and encouraging homeowners to do the same. As development increases across town, however, Stone pointed out that many projects today now also include green spaces.
Later, an excited Burrough said that the Tiger Prairie is now a Texan by Nature certified site. Go to www.tigerprairie.org for information.
karen.zurawski@chron.com