In partnership with nonprofits, H-E-B will plant native trees to support schools, communities, and future generations
In celebration of Texas Arbor Day, H-E-B launched its Trees for Texans program, a year-round effort that grows its commitment to support environmental initiatives in Texas by planting native trees that create healthier environments for schools, communities, and future generations. Throughout the year, H-E-B and its dedicated Partners will help plant hundreds of trees at school campuses while working with nonprofit grant recipients to plant additional trees across the state.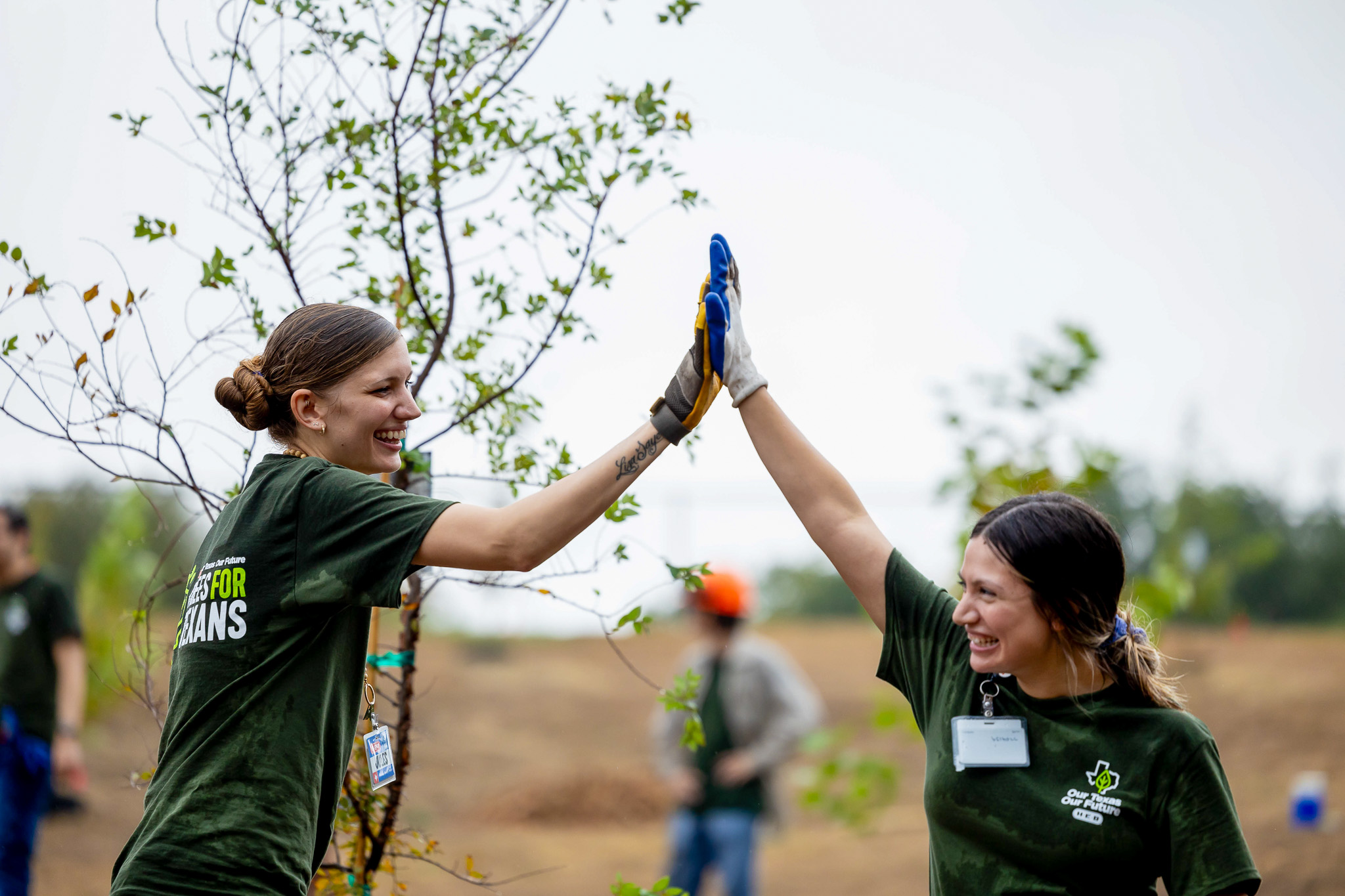 Through the Trees for Texans program, H-E-B will work with schools in urban areas to help reduce extreme heat by planting native trees to increase shade. Known as the heat-island effect, this extreme heat is most common in urban areas where greenery is limited and structures such as buildings, roads, and other infrastructure absorb and release the sun's heat, creating higher temperatures relative to outlying areas, according to the U.S. Environmental Protection Agency.
The retailer commissioned Texan by Nature, a nonprofit that advances conservation awareness and action across Texas, to manage the H-E-B Trees for Texans program. In coordination with Texan by Nature, H-E-B will work with organizations to conduct land surveys and urban heat analysis to identify schools near newly opened H-E-B stores that could benefit from the addition of trees to their campus.
"We are incredibly excited to partner with H-E-B to catalyze the Trees for Texans program," expressed Joni Carswell, CEO and President of Texan by Nature. "This project not only enhances the lives of people but also nurtures our environment, offering cooler temperatures, cleaner air, hands-on conservation opportunities, and outdoor learning experiences that will shape a brighter future for all Texans." 
H-E-B Trees for Texans and Texas A&M Forest Service also will provide selected schools with tree education curriculum, giving students hands-on educational opportunities to learn about trees and the role they play in ecosystems. Additionally, Certified Arborist Training will be provided to participating schools, offering advanced instruction for grounds crews to better care for trees throughout their campus. Additionally, H-E-B and Texan by Nature partnered with Brightview, a leading national landscaping company, which assists with securing native tree stock, as well as provide professional arborists to ensure the health and longevity of the trees.
The following schools will receive trees this year through the Trees for Texans program:
Rodriguez Elementary School in Austin
Charles A Forbes Middle School in Georgetown
Harmony School of Achievement in Houston
Three additional schools will be named later this year.
"H-E-B has a deep commitment to help protect, conserve, and beautify our great state for all Texans to enjoy, now and for future generations," said Leslie Sweet, H-E-B Managing Director of Sustainability & Environmental Affairs."Our goal is for the H-E-B Trees for Texans program to enrich the places we call home through tree planting, creating healthier environments for schools, communities, and our future."
To further support our communities, H-E-B, in partnership with Texan by Nature, will offer opportunities for nonprofits to apply for $5,000 grants to help fund tree-planting efforts statewide. This also provides hands-on conservation opportunities by partnering with local nonprofits to plant native trees and engage community volunteers. This year, H-E-B will award one grant per region and hold two rounds of grants annually. Next year, the program plans to offer 18 grants statewide, three in each region where H-E-B operates. Nonprofits interested in the grants can apply via the Texan by Nature website.  
Recent grant recipients are:
Bexar Branches Alliance Project CANOPY in San Antonio
City of Lewisville Parks and Recreation Thrive Nature Park Restoration Efforts
Alief Super Neighborhood Council #25 Linear Forest Continuation in Houston
Camp ELSO Inc. Children's Ancestral Garden Food Forest
City of McAllen Parks and Recreation Urban Forest #6
City of Pflugerville Parks and Recreation Heritage Park Pfood Pforest
Hesed House of Wharton
Looking toward the future, H-E-B also will continue its support for the Arbor Day Foundation and its reforestation efforts. Since 2018, H-E-B, in partnership with the foundation, has planted 30,000 native trees per year in Texas forests. This long-term investment in the future of Texas will help provide cleaner air, improved water quality, thriving wildlife habitat, and communities better connected to the outdoors.
To learn more and to see our progress, please visit the H-E-B Trees for Texans page on the Our Texas, Our Future website.
Trees for Texans represents the latest in H-E-B's longstanding pledge to reduce its impact on the environment. Through the company's Our Texas, Our Future commitment, H-E-B's mission is to increase awareness, access, and education around sustainability efforts that help preserve land, water, and air in Texas. H-E-B Trees for Texans joins many initiatives under the Our Texas, Our Future commitment, which span from food waste reduction to adopting renewable energy sources.
Since 2012, H-E-B has given more than $20 million to over 500 environmental organizations in land and water conservation, habitat and coastal preservation, and community cleanups. As the presenting sponsor for the Texas Parks centennial celebration, H-E-B recently made a $1 million donation to support programming aimed to engage all Texans in discovering and enjoying the nearly 90 state parks in Texas. Additionally, Field & Future by H-E-B products supports Texas Parks and Wildlife Foundation in efforts such as coastal conservation along the Texas Gulf Coast, Black Bear restoration in West Texas, and the establishment of Palo Pinto Mountains State Park, the first new state park to be opened in North Texas in 25 years.