The Chamber of Commerce would like to recognize 7 Oaks Ranch as our Business of the Month.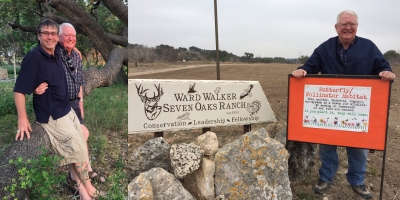 7 Oaks Ranch (known to many previously as The Jack Ward Ranch) is a hunting, livestock and recreational property primarily focused on wildlife conservation and responsible land stewardship. Kelly Walker owns the ranch and manages the property with his sons Wayne, Philip & Caton and has had a connection to the land since the late 1940's. The ranch focus changed dramatically about 15 years ago: de-prioritizing livestock in favor of practices to achieve long-term range restoration and wildlife goals.
"The boys were concerned about the overall health of the rangeland due to overstocking and poor land management and wanted to take a much more proactive approach using science-based changes. I was reluctant to embrace this at first, but after deciding to give my blessing we have achieved dramatic results," says landowner Kelly Walker. "What we have found over the past few years is that these changes have produced better financial results for the ranch in addition to the ecological and wildlife conservation benefits that have been realized."
"Like many ranches in the area, ours was overgrazed for generations and prescribed fire was removed from the landscape. This resulted in massive encroachment of red berry cedar and the disappearance of grass," states Wayne Walker. The negative practices began to change when Wayne used the family ranch for his Thesis project while working on his Master's Degree in 2000. Shortly thereafter, the focus on how to manage the land started to change swiftly, especially when prescribed fire was reintroduced in 2009 with assistance from Dr. Charles Taylor of the Sonora A&M Research Station.
"We were told a while back from a good friend that just because you are fortunate enough to have land doesn't necessarily mean you know exactly how to manage it," states Ranch Operations Manager Philip Walker. "That spoke volumes to us and we realized that we needed help, and that was something the ranch hadn't done up to that point. We decided to open our gates and build a team of biologists and other partners (including Mary Humphrey of Texas Parks & Wildlife Department) who educated us and pointed us in the right direction, starting with a Wildlife Management Plan. We converted our Ag Exemption to Wildlife Valuation since our main focus was wildlife and land stewardship. Even though the main focus became land restoration and wildlife, we decided to run a limited amount of cattle because they simply are a 'tool' in reaching range goals and providing supplemental income."
The cattle tenant is Ben Forehand, a native from Ozona. Ben is a great fit because he saw himself as "being in the grass commodity business just as much as the cattle business" and works very closely with the family to monitor the land and keep things in check. Ben Forehand also has an understanding of prescribed fire as well as experience managing hunters, which are added bonuses.
The family overhauled the under-performing hunting model that had been used for decades and hired professional hunting managers: Wildlife Systems out of San Angelo, operated by Greg Simons & Ruben Cantu. We wanted a professionally managed hunting program with folks that had a proven track record in the ranch, hunting and wildlife categories. Wildlife Systems helped get the ranch on the right track with helicopter surveys, the Texas Parks & Wildlife "Managed Lands Deer Permit" program and a completely restructured hunting program. "We want hunters that have similar philosophies as ours while enjoying their time here, but if they're not comfortable having a relationship with Game Wardens for example, then they're probably not the kind of people we want," states Philip Walker.
7 Oaks Ranch focuses on many criteria supporting the wildlife approach with the main component being prescribed fire. "We are huge proponents of prescribed fire and have burned close to 1300 acres this year (2019) through a collaborative effort with the Texas Parks & Wildlife Foundation & Quail Forever. Dollar-for-dollar it's the best way to control the invasive brush, renew the grasslands and other native plant species, as well as restore the soil. I love to watch the wildlife come to the areas when the land begins to recover and 'green up'. The wildlife just flock to the regrowth in burned areas. You could almost say our motto is 'Fire & Water' because we focus a lot of our time on and understand the importance of both," says Philip Walker.
Other practices the ranch focuses on include pond creation, native seed planting, bird/bat box installation, feral hog control, supplemental feeding, pollinator habitat and Milkweed planting for Monarch butterflies.
One of the most important assets is the ranch's volunteers and friends. For example, a close & dedicated family friend, Rusty Garvin, who knew Jack and Ellen Ward, helps by dedicating time communicating with the lease hunters and keeping them 'organized'. Philip reached out to area universities to recruit students studying in the conservation field. "I wish I had thought of creating a student volunteer Conservation and Fire Team 10 years ago because they have been a tremendous 'shot in the arm' for our fire program. We have students from Sul Ross University, Angelo State University as well as Texas State University, and they have been an absolute blessing. The students have been well-mannered and fun to work with. It's such a 'win-win' because they are getting hands-on training as well as accruing volunteer hours while spending time outdoors. I enjoy working with the students, and I believe they love being here because they keep coming back. We wouldn't be where we are without our volunteers, family friends and hunters."
In addition to overseeing the day-to-day operations of the ranch, Philip focuses a large amount of time on attending land management seminars, pursuing grant opportunities, exploring other avenues of income and visiting other ranches. "You have to learn to be flexible and creative in order to get things done. We operate on a tight budget with aggressive land management goals, particularly prescribed fire, so I spend a considerable amount of time pursuing relationships to advance our land goals. Just like any business, it's all about relationships whether you're talking about building a strong team of consultants, looking for grant opportunities, recruiting volunteers, locating needed equipment, etc. It's a never-ending job that I take very seriously. I want folks to know exactly where our values lie as soon as they enter the gates.
"Like many ranches, 7 Oaks has looked into other "hybrid" land uses such as educational field workshops, eco-tourism and even star-gazing to name a few. Since we have limited streams of income and lofty goals combined with the general hardships that come along with a ranch operation, we must look at other potential sources of income and adapt. Our focus is continuing with land restoration, the prescribed fire program, cattle and hunting, but we're open to looking at other income streams similar to award-winning ranches that we model ourselves after, like Bamberger Ranch Preserve."
7 Oaks Ranch has partnered with various organizations including Natural Resources Conservation Service, Texas A&M AgriLife Extension, Texan By Nature, Monarch Watch, Borderlands Research Institute (Alpine), Texas Wildlife Association, the Shumla Foundation (Comstock) and the "Pecos Trail" portion of the Texas Historical Association's Heritage Trails Program.
The Ozona Chamber of Commerce would like to recognize 7 Oaks Ranch for their dedication to the ranch operation, and for their commitment to local land preservation and diversification. For more information, visit 7 Oaks Ward Walker Ranch TxN Certification page.